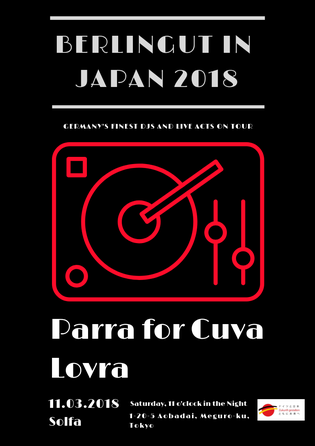 Date /
Saturday, 3 Nov 2018
23:00 - 05:00
Venue /
Solfa
1-20-5 Aobadai, Meguro-ku, Tokyo, 156-0041, Japan
Door /
3,000yen
Adv /
2,000yen
Line-up / 
Parra for Cuva (Project Mooncircle)
LOVRA (Ministry of Sound)
Crazy Neo (White Space Lab)
JUN (WEAVES)
Neon Noir
Tours "Berlingut in Japan" where artists active at the forefront of German electronic music scene play in all over Japan.
Tokyo will be held at Nakameguro solfa on November 3 and Shibuya White Space Lab on November 4.
German embassy also supports German official recognition event!
Parra for Cuva released Darwīš (feat. Senoy) from the highly noteworthy Berlin label Project Mooncircle releasing Submerse, making the popularity in Europe immovable.
LOVRA belongs to the world's highest-ranking dance music brand Ministry of Sounds, a talented female producer who gathers worldwide attention.
Nakameguro solfa of this day will surely be a fashionable and exciting night!
ドイツのエレクトロニックミュージックシーンの最前線で活躍するアーティスト達が日本各地でプレイをするツアー"Berlingut in Japan"。
東京は11/3に中目黒solfa、11/4は渋谷White Space Labで開催される。
ドイツ大使館もサポートしているドイツ公認の注目イベント!
Parra for Cuvaは、Submerseもリリースする大注目のベルリンのレーベルProject MooncircleよりDarwīš (feat. Senoy) をリリースし、ヨーロッパでの人気を不動のものとした。
LOVRAは、世界最高峰のダンスミュージック・ブランドMinistry of Sounds所属であり、世界的に注目を集める才色兼備な女性プロデューサー。
この日の中目黒solfaは、ファッショナブルで、刺激的な夜になることは間違いないだろう!
Adv Ticket 
https://jp.residentadvisor.net/events/1160052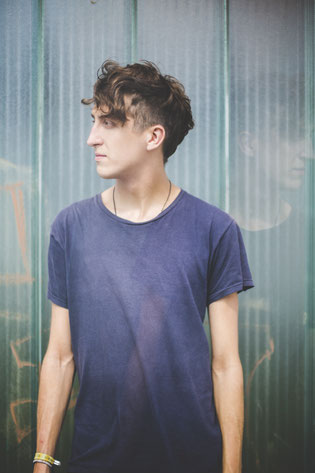 Parra for Cuva (Project Mooncircle)
Nicolas Demuth, better known as Parra for Cuva, is a wildly talented young musician born in Cologne.
Nicolas has developed an artistic and musical individuality not common in the indistinguishable mass of the electronic music scene.
His personal catalogue has steadily shaped into a collection of slow, well-mended and melody-laden electronica that lets one's heart and soul dance side by side with body and brain.
Studying Audio Design in Berlin, Parra For Cuva is expanding his craft.
His music is like a mesh of tunes and twirls, intertwining, falling apart, folding and unfolding at the same time.
Parra for Cuva will present his individual take on electronic music with an authentic live band.
Parra for Cuvaとしてよく知られてるNicolas Demuthは並外れた才能を兼ね備えたドイツのケルン出身の若手ミュージシャンだ。
Nicolasはその特有の芸術的、音楽的な個性を数えきれないほどのエレクトロニックシーンの中で磨き上げてきた。
また、彼の多様な引き出しは、身体と脳と共にハートとソウルを躍らせる、心地よいテンポでかつ上質、そしてメロディーにあふれたエレクトロニカの作品を着実に作り上げてきた。
現在、Parra for Cuvaはベルリンでオーディオデザインの勉強をする中で、自身の技術をより磨き上げている。
彼の音楽を表現するならばそれは、渦を巻き、からみあい、ばらばらになったり、閉じたり開いたりを同時に展開する網目状のメロディーだ。
Parra for Cuvaは私たちに本物のエレクトロニックミュージックを通して、彼の世界を見せてくれるだろう。
---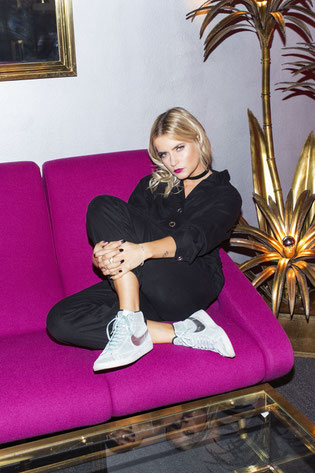 LOVRA (Ministry of Sound)
LOVRA is a just talented girl from Berlin in great worldwide demand as DJane and as well as successful producer.
By combining the attraction for music from the 80s and 90s and her natural sense for modern melodies with danceable UK House beats and striking vocals she is creating her own distinctive sound.
With her smash hit remixes for Robin Schulz & Piso 21 "Oh Child" and Jax Jones feat. Mabel & Rich the Kid "Ring Ring" in her bag, she is enchanting the crowds of the recent festival season at major events like Melt!, Tomorrowland, Helene Beach, Nature One, Love Sea or Artlake with her unique performance.
Highlighting the summer of 2018 is her official residency at David Guetta's BIG party on Ibiza, playing 17 shows together with David at the world famous Ushuaia Beach Club. Being member of the Ministry Of Sound roster for three years she already dropped beats in trendy cities including Singapore, Bangkok, Dubai or London played as support for legendary acts like Armand van Helden, Basement Jaxx, Todd Terry, Felix da Housecat and many more.
With her new single "My Beat" on Kontor Records she straight took over the Dance Brandneu playlist at Spotify heralding a fresh and perfect summer hit for the dance floors.
LOVRAは世界的に注目を集め、素晴らしいオファーの数々を受けているDJであり、また成功したプロデューサーでもある才色兼備な女性である。
80年代から90年代の音楽の持つ魅力と、UK Houseのダンサブルなビート、そして魅力的なヴォーカルを備えた現代的なメロディーに対する彼女の天性的なセンスを組み合わせることによって、彼女は独特のサウンドを作りだしている。
彼女の大ヒット作である Robin Schulz & Piso 21 "Oh Child"とJax feat. Mabel & Rich the Kid "Ring Ring"をベースに、Melt!、Tomorrowland、Helene Beach、Nature One、Love SeaやArtlakeなど、メジャーなイベントでプレイして、フェスティバルシーズンの観客たちをユニークなパフォーマンスで虜にしてきた。
彼女の2018年に注目してみると、IbizaのDavid GuettaのBIG partyではパーティ専属DJを務め、世界的に有名なUshuasia Beach ClubでDavidと共に17のギグでプレイした。
Ministry Of Soundでは3年間、登録DJとしてプレイする中で、ロンドンをはじめ、ドバイ、バンコク、シンガポールなどの有名な都市でArmand van Helden、Basement Jaxx、Todd Terry、Felix da Housecatなど多数の大物アーティストのサポートアクトを務めた。
またKontor Recordsから出した彼女のニューシングル"My Beat"は新鮮で完璧なサマーヒットとなり、世界中のダンスフロアでプレイされ、SpotifyのDance Brandneuプレイリストで大きな注目となった。