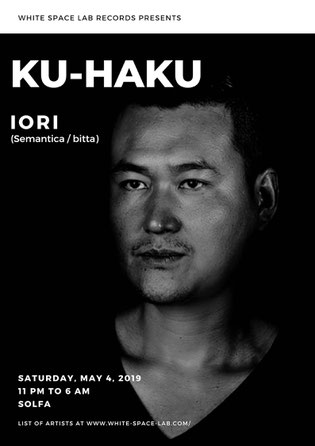 Date /
Saturday, May 4,  2019
11 pm to 6am
Venue /
Solfa
Door /
2,500yen
Line-up /
Room1
Iori (Semantica / bitta)
Crazy Neo (White Space Lab)
Neon Noir
Futsuka
Yuichi Uchibayashi
Room2
Yoshiki Aoyama
Kumari
Eisuke Mizuguchi
Chika Kanzawa
Katsuyoshi
mu"he (ELEPHANT)
Momo & Grape B2B
今回の"Ku-haku"は、"Prologue"、"Semantica"などの名門レーベルからリリースを重ねワールドワイドに活躍を続ける、IORI氏をゲストに迎えて開催する。
彼は、DJ Nobuを筆頭に世界を舞台に活躍するDJたちが集う"Tokyo Techno Society"のレジデントでもある。
開催毎に評価を高めている"Ku-haku"今回もご期待下さい。
This time, "Ku-haku" will be held with guest IORI who continues to be active in worldwide by repeatedly releasing from prestigious labels such as "Prologue" and "Semantica".
He is a resident of "Tokyo Techno Society" where DJs who are active on the world stage gather, led by DJ Nobu.
"Ku-haku" which raises evaluation every holding, please expect this time.
Iori 
10代の頃より様々な音楽に触れ現在はテクノを中心にPlay。
2008年ロンドンのPhonica Records 主催のレーベル Phonica Whiteよりデビュー12inch 『GALAXY EP』をリリースして以来、 Prologue, Semanticaなど海外のHOUSE/TECHNOのレーベルからリリースを重ねる。国内では2012年にDJ NOBU主催のBittaより12inchとAlbumをリリースしている。2012年より活動の拠点をベルリンに移し現在までヨーロッパの各都市でプレイ。2015年2月に帰国し再び日本を中心に活動をはじめる。
Hailing from Okinawa, now-Tokyo-based producer IORI once cut his teeth as an assistant for David Mancuso's revered party, The Loft, in New York City, where he learnt a meticulous sonic mentality from his audiophile mentor.
This permeates his carefully-handled arrangements, which have helped make his name and define a series of spacey, atmospheric originals and remixes for proponent imprints like Phonica and Prologue to name but a few. Since his striking 2009 debut, Galaxy, which took its cue from Basic Channel and Manuel Gottsching, the Japanese producer has developed an immensely expressive dubbed-out sound in his own right. The first culmination of that is 2012's excellent Nexus album for Bitta, a label owned by Far Eastern rising star DJ Nobu, seeing his ambient productions sit nicely with his hypnotic dance tunes.
Two year stay in Berlin in early 2010s helped IORI gain a foothold in the international stage. He has since traveled across Europe, validating his characteristic meditative techno set, which is just the tip of his huge musical iceberg that ranges from low-slung house to leftfield oddballs. Despite his return to Japan in 2015, his presence remains strongly felt through frequent European tours. 2016 saw IORI release the Cold Radiance album, where his sci-fi ambient side grew fully- fledged. For an artist that has produced immersive and spacious pieces, it was a logical continuation of his extensive career as a producer. Eschewing the club-orientated perspective, it certainly proved IORI's expressional depth and does justice to his artistic intention, his acute ears for spellbinding details standing out in sharp relief, which raised expectations of his promising future.